Solar photovoltaic (PV) project development is expanding throughout Southside and Southwestern Virginia.  Projects are being developed at a variety of scales and clientele are evaluating variety of project types with each raising a variety of questions confounding efficient project exploration and raising project uncertainty.  The situation can further be confounded by utility interconnect and billing impact uncertainty, among other factors.  While renewable energy projects often represent a significant capex by the owner, relatively smaller projects often lack an independent feasibility study accounting for projected project costs, benefits, performance and uncertainty.  Instead, capex decisions may be made based on vendor-supplied information alone, which itself may not fully convey projected project costs, benefits, performance, and uncertainty (e.g., grant success, standby charges, net-metering credit reconciliation, tax implications, etc.). In response, a webinar and a two-day workshop were held to raise awareness and understanding of key considerations of solar PV project investment analysis, and provide a hands-on introduction to the freely available, and validated, System Advisor Model (SAM) energy project decision support tool developed by DOE-NREL (Department of Energy – National Renewable Energy Laboratory).  The objectives of these events were to introduce participants to the primary components of solar PV project analysis, and receive an orientation on the steps involved with conducting the analysis via the SAM tool. The workshop was  supported by the AEEI program, which is funded by the Virginia Tobacco Indemnification and Revitalization Commission with additional support from Virginia Department of Mines, Minerals and Energy.

Figure 1 describes selected aggregate workshop evaluation results on a 5-point scale (1 star = poor/low, 5 stars = excellent/a lot). 100% of respondents indicated that they would attend this type of workshop again in the future or recommend this workshop to a friend. Participants indicated that some of the most beneficial parts of the workshop related to: learning how to use SAM, learning directly from subject matter experts, obtaining resources to later share with farmers, gaining more hands-on experience with the SAM decision support tool, learning about the current state of the solar industry, learning about SAM applications in the agriculture sector, among other areas. 100% of respondents anticipated sharing, or applying, the information learned through this workshop with others.  100% of respondents identified specific actions they plan to take as a direct result of this workshop, including: contacting farmers to share information, meeting with farmers to review solar projects using SAM, using data and SAM to evaluate projects, better use of SAM to teach about solar analysis, working to build partnerships between the agricultural extension community and NREL, among others.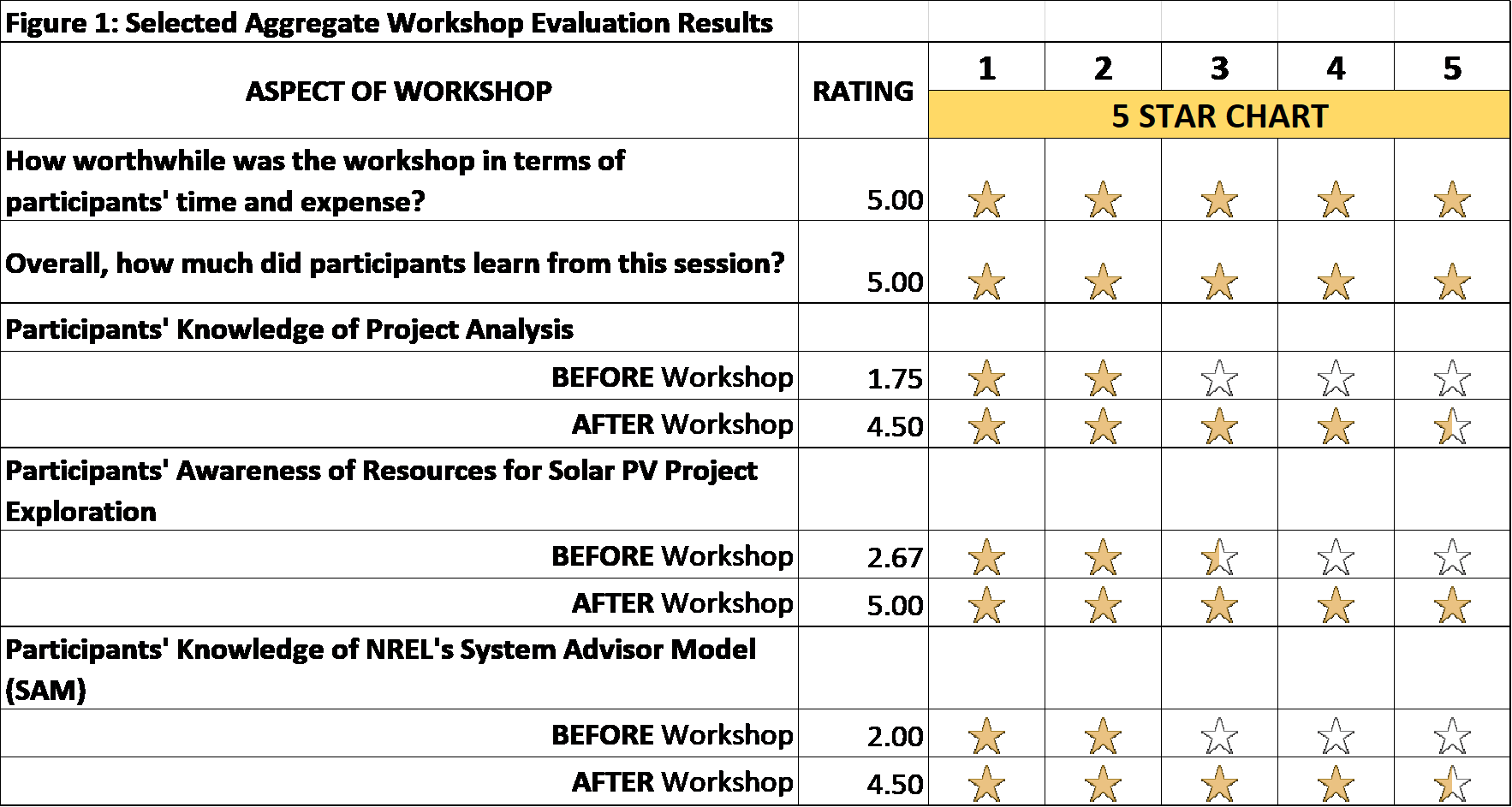 The System Advisor Model (SAM) "…makes performance predictions and cost of energy estimates for grid-connected power projects based on installation and operating costs and system design parameters that you specify as inputs to the model. Projects can be either on the customer side of the utility meter, buying and selling electricity at retail rates, or on the utility side of the meter, selling electricity at a price negotiated through a power purchase agreement (PPA). (source: NREL)" SAM is a freely available decision support tool developed by the U. S. Department of Energy's National Renewable Energy Lab.
The video link (above) is recording of a live educational webinar held Friday, November 17, 2017 to highlight resources on Solar Photovoltaic Investment Analysis and NREL's System Advisor Model (SAM). With presentations from Erich Romich (The Ohio State University), John Hay (University of Nebraska), Paul Gilman (NREL SAM Development Team), and John Ignosh (Virginia Tech & Extension). For more info on SAM please visit: https://sam.nrel.gov/ More info on the Solar Photovoltaic Investment Analysis Extension Publication Series, please visit: https://energizeohio.osu.edu/news/ext….
The webinar was followed by a tw0-day workshop (December 13th & 14th, 2017).  Selected presentations from the in-person workshop are included below.   Additional related solar project finance analysis content is available through an upcoming webinar series hosted by Michigan State University: http://msue.anr.msu.edu/news/agricultural_solar_electric_investment_analysis_webinar
DAY 1: An Introduction to Solar PV Investment Analysis
DAY 2: DOE-NREL's System Advisor Model Training
Eric Romich, The Ohio State University
Eric Romich is an Ohio State University Extension Field Specialist for Energy Education.  As a statewide Extension Field Specialist he works closely with faculty and staff from various program areas and departments to conduct research, develop extension programs, and teach in communities throughout the state.  His educational programs are designed to guide informed decision making on energy issues to enhance the overall environmental and economic conditions in Ohio communities.
John Hay, University of Nebraska
John Hay is an Extension Educator Dept. Biosystems Engineering, University of Nebraska. John works in areas of the biofuels industry, ethanol co-product utilization, bioenergy crops, changes in farming practices due to the biofuels industry,  small wind turbines, and small solar systems for home, farm, or business. John has a B.S., Agronomy, University of Nebraska-Lincoln and an M.S., Agronomy, Texas A&M University.
Paul Gilman, NREL SAM Development TeamPaul Gilman is a technical writer and trainer and has worked on projects for the National Renewable Energy Laboratory (NREL) and other clients since 2002. He has written documentation for NREL's System Advisor Model (SAM) and PVWatts, and for HOMER. Paul designed and facilitated dozens of training workshops for energy professionals around the world, and has provided technical assistance to project developers in the preparation of feasibility studies for renewable energy projects. He has a B.S. in electrical engineering from the University of Washington and a B.A. in music performance from Oberlin College.
John Ignosh, VT Biological Systems Engineering, Virginia Cooperative Extension
John's 

extension

 program focuses on the implementation of best management practices (BMPs) related to energy efficiency, renewable energy, and innovative nutrient management technologies.  While the audiences and collaborations vary by issue, program clientele share a common interest in applying research-based information to solve problems, to help improve both their livelihoods and lives.  John is a Certified Energy Manager and Distributed Generation Certified Professional by the Association of Energy Engineers, Certified Forester by the Society of American Foresters, a Certified Nutrient Management Planner by the VA Dept. of Conservation and Recreation, and a certified DACUM (Developing a Curriculum) facilitator by the International Training Center at The Ohio State University.  John currently serves as the National Initiative Manager for the National 

Extension

 Energy Initiative, and as a co-chair to Virginia Cooperative 

Extension

's Natural Resources and Energy Management Program.