Workshop Webpage
Links to Selected Presentations, Resources and Contacts

Thank You to Workshop Sponsors:
Virginia Tobacco Indemnification and Revitalization Commission
Virginia Department of Mines, Minerals and Energy 

Workshop Evaluation Summary of Results
Twenty-nine people participated in the workshop, 65% workshop evaluation forms were returned.  Figure 1 describes selected aggregate workshop evaluation results on a 5-point scale (1 star = poor/low, 5 stars = excellent/a lot). 100% of respondents indicated that they would attend this type of workshop again in the future or recommend this workshop to a friend. Many participants indicated that some of the most beneficial content related to: irrigation system evaluation procedures, variety of technical and financial assistance programs related to farm energy and water management, awareness of variability in water distributions, drip irrigation system components and technology, determining system flow rate, and specific steps to improve water management.  76% of respondents anticipated sharing, or applying, the information learned through this workshop with others.  43% of respondents had identified specific actions they plan to take as a direct result of this workshop, including: assessing drip irrigation system, utilizing irrigation scheduling, using uniform irrigation components, increasing amount of overlap, flushing irrigation lines, more robust system monitoring, changing timing of irrigation applications, developing a water management plan, among others.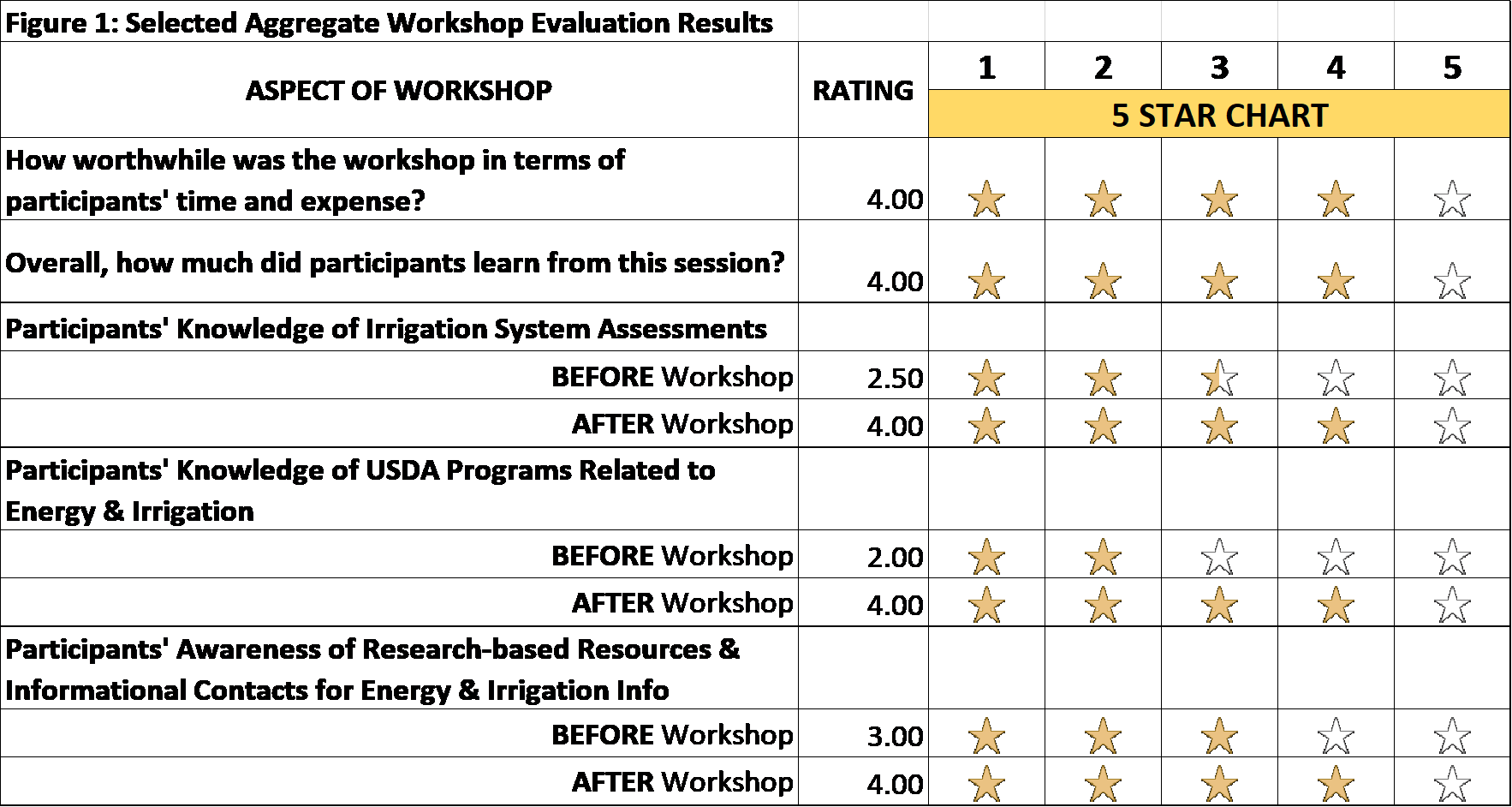 Welcome & Introductions
Overview of the Workshop & the Agricultural Energy Efficiency Initiative
John Ignosh
Biological Systems Engineering
Virginia Tech & Virginia Cooperative Extension
2322 Blue Stone Hills Drive #140
Harrisonburg, VA 22801
540-432-6029 *108
jignosh@vt.edu

Overview of SPAREC & Irrigation Related Research
Dr. David Reed
Extension Agronomist, Tobacco
Southern Piedmont Center
2375 Darvills Road
Balckstone, VA 23824
434-292-5331 Ext. 5
Emerging Interests & Issues on Irrigation from Field
Mike Parrish
Dinwiddie County
Virginia Cooperative Extension
13915-A Boydton Plank Road
Dinwiddie, VA 23841
804-469-4514

Irrigation Information & 2018 Irrigation Extension Event Information
Dr. Julie Shortridge |  Virginia Tech
Assistant Professor and Extension Specialist
Department of Biological Systems Engineering
Seitz Hall, RM 205
155 Ag Quad Lane
Blacksburg, VA 24061
540.231.2797
jshortridge@vt.edu
ww2.bse.vt.edu/shortridge
USDA Programs
Rural Energy for America Program (REAP)
Laurette Tucker
Rural Business Specialist
U.S. Department of Agriculture
Rural Development
100 Dominion Drive
Farmville, VA  23901
434-392-4906, Extension 125
http://www.rd.usda.gov/ 
NRCS Technical & Financial Assistance Programs
Derek Hancock
District Conservationist
Farmville Service Center – NRCS
100-D Dominion Drive
Farmville, VA 23901
434-392-4127 x101
Find your USDA Service Center
Find a Technical Service Provider
Directory of Virginia District Conservationists (Workshop Handout)
Washington State University, Irrigated Agriculture Research and Extension Center
Water Irrigation Systems Efficiency (W.I.S.E.)
Don McMoran
Agriculture and Natural Resources Extension Faculty & County Director
Washington State University Extension – Skagit County Extension
11768 Westar Ln.  Suite A. Burlington, WA. 98233
dmcmoran@wsu.edu
(360) 428-4270 ext. 225
Irrigation Systems Evaluation and Management 
Moneim Mohamed
Graduate Research Assistant
Irrigated Agriculture Research and Extension Center
Washington State University
24106 N. Bunn Rd., Prosser, WA  99350
abdelmoneim.mohamed@wsu.edu
Field Assessment Work (Travelling Gun, Hand-Move Sprinklers, Drip)
Travelling Gun Evaluation Form
Hand-Move Sprinkler Evaluation Form
Field Assessment Work (Travelling Gun, Hand-Move Sprinklers, Drip)
Assessment Analysis
Travelling Gun & Hand-Move Sprinkler Analysis Sheet
Drip Analysis Sheet